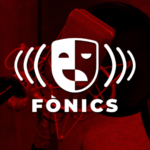 Synopsis
Victor and Helena meet in a supermarket queue and fall in love. All very casual, all very everyday. Their relationship will grow naturally, like water in a pot over a low heat. But when they reach the boiling point, one of them will have to jump, despite the dizziness, to save their lives; it's not a question of getting scalded, she loves fig jam and he can't even smell it.

ABOUT TEMPS DE FIGUES: The text is inspired by real events and tells us about gender violence through a pyramidal journey of no return. It tells us about manipulation and psychological abuse as a prelude to physical violence. It tells us how a chain of small gestures, which we do not associate with imminent danger, can become a spider's web that traps us and leaves us totally immobilized. It tells us, in short, that sometimes, when we realize it, it is already too late.
TECHNICAL SPECIFICATIONS
Title: Temps de Figues.
Director: Salvador Oliva.
Author: Aina Decos.
Performers: Irene Soler and Joan Miquel Artigues.