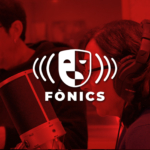 SYNOPSIS:
An old butler, Walter, is replaced by David, a young man specially chosen to take his place. At first it seems only a period piece, but little by little it becomes clear the monstrous nature of the power that Walter subdues and that from now on will subdue David, a power that seems unattainable, that cannot be understood and that brings the work closer and closer to the horror genre.

TECHNICAL SPECIFICATIONS
Title:La successió.
Author:Vicent Tur.
Director:Salvador Oliva.
Performers:: Asun Planas, Miquel Àngel Torrens and Héctor Seoane.